PRINCIPLES OF FORMATION OF LISTENING SKILLS OF STUDENTS IN HIGHER EDUCATIONAL INSTITUTIONS
Keywords:
communication, listening, auditory competence, foreign language, auditory skills, interaction
Abstract
The article views listening comprehension as a type of speech activity and an important aspect of teaching a foreign language, allowing students to communicate with native speakers successfully. The formation of auditory skills makes significant difficulties for students, since complex psychophysiological processes are involved in the process of perceiving speech, and the listening process itself is accompanied by difficulties associated with both the language form of the message and the various characteristics of the message source and the conditions of its presentation. The author of the article analyzes the features of listening comprehension as a type of speech activity and the aspect of studying, considers difficulties of developing the students' auditory competence and suggests the principles of auditory competence formation based on the specifics of the development of language and speech skills in the natural environment: principles of communication, activity, interaction of the main types of speech activity, accessibility, intensity, visibility, systematic and consistent studies, individualization.
References
1. Brumfit C.J., Johnson K. (1979). The Communicative Approach to Language Teaching.
2. Underwood, M. (1997). Teaching Listening. New York: Longman Limited.
3. Galskova N.D., Gez N.I. (2009). Teoriya obucheniya inostrannym yazykam [Theory of teaching foreign languages]. M.: Akademiya. [in Russian]
4. Golotyuk O.V. (2013). Osoblivosti audiyuvannya u vishih navchalnih zakladah: zbirnik naukovih prac. Pedagogichni nauki. [Features of listening in higher educational institutions]. Collection of scientific papers. Pedagogical Sciences. 2013. V.64. S. 220–225. [In Ukrainian]
5. Zimnyaya I.A. (2003). Pedagogicheskaya psihologiya: Uchebnik dlya vuzov [Pedagogical psychology: Textbook for universities].M.: Logos. [in Russian]
6. Tarnapolskij O.B. (2006). Metodika navchannya inshomovnoyi movlennyevoyi diyalnosti u vishomu navchalnomu zakladi osviti: navchalnij posibnik [Methods of teaching foreign language speech activity in a higher educational institution: tutorial]. Kyiv. 248 s. [In Ukrainian].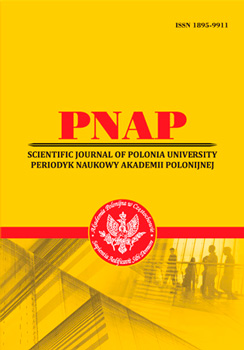 Abstract views: 16 PDF Downloads: 11
How to Cite
Ryzhenko, M., & Anisenko, O. (2023). PRINCIPLES OF FORMATION OF LISTENING SKILLS OF STUDENTS IN HIGHER EDUCATIONAL INSTITUTIONS. Scientific Journal of Polonia University, 55(6), 92-96. https://doi.org/10.23856/5511
Section
LANGUAGE, CULTURE, COMMUNICATION