QUALITY MANAGEMENT TECHNOLOGY FOR THE TRAINING OF BACHELORS IN PHYSICAL EDUCATION IN THE CONDITIONS OF THE EDUCATIONAL ENVIRONMENT OF THE UNIVERSITY (ON THE EXAMPLE OF THE PRC)
Keywords:
physical education, educational situation, managerial activity
Abstract
The article describes the effectiveness of the functioning of the field of physical education and sports, which largely depend on the use of modern management technologies. All activities carried out in the field of physical education are management activities, both in form and content. Graduates of higher educational institutions of physical education and sports must master the basics of management science, the ability to apply theoretical knowledge in practice, which is a necessary condition for the effective operation of organizations in the field, the training of high-class athletes, increasing the level of physical activity and strengthening the health of the population. The purpose of the study "Management of the field of physical education and sports" is to provide future specialists with theoretical knowledge about the system of physical education movement management and to form practical management skills. Due to unsatisfactory socio-economic living conditions, this is also influenced by a decrease in the population's motivation for physical culture and sports activity. In addition, in institutions of general secondary education, imperfect material and technical and personnel support is noted.
References
1. Burk, V. (2013). Stabile Strukturen und neue Tendenzen. In Deutscher Olympischer Sportbund (Hrsg.), Spiele der XXX. Olympiad London 2012. Auswertungen und Analysen [Stable
structures and new tendencies. In German Olympic Sports Confederation (ed.), Games of the XXX. London 2012 Olympics. Evaluations and analyses] (S. 21–23). [in German]
2. Franz, B. (2008). China. In Deutscher Olympischer Sportbund (Hrsg.), XXIXX. Olympische Spiele Peking 2008. Analysen – Bilanzen – Einfällungen [China. In German Olympic Sports
Confederation (ed.), XXIXX. Beijing 2008 Olympic Games. Analysis – Balance Sheet – Effects] (S. 48–51). [in German]
3. Guo, J. (2012). Neue Entwicklungen im Chinese Spitzensport. Unveröffentlichtes Dokument. [New developments in Chinese elite sport. Unpublished document.] Peking. [in German]
4. Miao, J. (2005). Entwicklung der Sportwissenschaft in China. [Development of sports science in China.] Weilheim/Teck: Bräuer. [in German]
5. Miao, J. (2006). Die Sportwissenschaft in China. [Sport Science in China]. China Journal. Sport und Gesellschaft in China, o. J. (1), 21–25. [in German]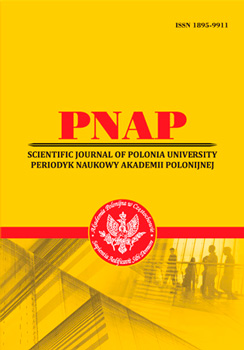 Abstract views: 18 PDF Downloads: 15
How to Cite
Liang, Z. (2023). QUALITY MANAGEMENT TECHNOLOGY FOR THE TRAINING OF BACHELORS IN PHYSICAL EDUCATION IN THE CONDITIONS OF THE EDUCATIONAL ENVIRONMENT OF THE UNIVERSITY (ON THE EXAMPLE OF THE PRC). Scientific Journal of Polonia University, 55(6), 116-121. https://doi.org/10.23856/5515
Section
LANGUAGE, CULTURE, COMMUNICATION