DIGITAL IDENTIFICATION AND FINANCIAL MONITORING: NEW TECHNOLOGIES IN THE FIGHT AGAINST CRIME
Keywords:
artificial intelligence, blockchain technology, digital identification, financial intelligence unit, financial monitoring.
Abstract
The purpose of the research is to explore the role of emerging technologies in combating criminal activities, particularly in digital identification and financial monitoring. The article aims to highlight how these new technologies can enhance the effectiveness of law enforcement agencies and financial institutions in detecting and preventing crime. Methods. The methodological basis of the research was a set of methods of scientific knowledge. In particular, the phenomenological method allowed the author to analyse national, international, and foreign law legal sources. The analytical method was used during the analysis of the conceptual and categorical apparatus, the definitions of "artificial intelligence", "digital identification", "blockchain", etc. The author also used the method of analysis and generalisation, which made it possible to clarify and generalise views on the essence and types of digital identification for further use in financial monitoring. Results. The article discusses various technological advancements, such as biometric identification systems, blockchain technology, artificial intelligence, and data analytics, and their application in the fight against crime. It explores how digital identification systems can help verify individuals' identities more securely and efficiently, reducing the risk of identity theft and fraud. Additionally, it examines how financial monitoring tools can enable authorities to track suspicious transactions, detect money laundering activities, and disrupt the financing of criminal organisations. The article also addresses potential concerns and challenges associated with using these technologies, such as privacy issues, data security, and ethical considerations. Conclusions. New technologies such as biometrics (e.g., fingerprints, facial recognition, iris scans) and blockchain-based systems can improve digital identification processes. These technologies offer increased security, reduced fraud, and streamlined identity verification procedures, preventing theft and other related crimes. Advanced data analytics, machine learning, and artificial intelligence algorithms can be utilised to enhance financial monitoring systems. These technologies enable faster and more accurate identification of suspicious transactions, money laundering activities, and financial crimes. Automated systems can analyse vast amounts of data and detect patterns that would be difficult for humans to identify, thereby assisting law enforcement agencies in combatting financial crimes.
References
1. Biometrics in Digital Financial Services: An Overview (2017). Reducing Poverty through Financial Sector Development. Report. URL: https://www.fsdafrica.org/wp-content/uploads/ 2019/08/Biometrics-in-finance-03.08.2017.pdf. Accessed 09 Jun 2023.
2. Commonwealth FinTech Toolkit. Helping Governments to Leverage Financial Innovation (2020). The Commonwealth Secretariat. URL: https://production-new-commonwealth-files. s3.eu-west-2.amazonaws.com/migrated/inline/Commonwealth%20Fintech%20Toolkit.pdf. Accessed 13 Jun 2023.
3. ICAR (2017). Blockchain technology and its effect on the financial industry. URL: https:// www.icarvision.com/en/blockchain-technology-and-its-effect-on-the-financial-industry. Accessed 03 Jun 2023.
4. FATF Guidance on Digital Identity in Brief (2020). URL: https://www.fatf-gafi.org/media/ fatf/documents/reports/Digital-ID-in-brief.pdf. Accessed 15 Jun 2023.
5. Gratzer, N. (2023). Digital identity: The Complete Guide to Digital Identification. Adnovum. URL: https://www.adnovum.com/blog/digital-identity Accessed 14 Jun 2023.
6. McKinsey Global Institute. Digital identification: A key to inclusive growth. URL: https:// www.mckinsey.com/~/media/McKinsey/Business%20Functions/McKinsey%20Digital/Our%20 Insights/Digital%20identification%20A%20key%20to%20inclusive%20growth/MGI-Digital- identification-In-brief.pdf. Accessed 04 Jun 2023.
7. Kanwar, Sh., Reddy, A., Kedia, M. & Manish, M. (2022). The Emerging Era of Digital Identities: Challenges and Opportunities for the G20. Asian Development Bank Institute Policy Brief. No.2022-3 (August). URL: https://www.adb.org/sites/default/files/publication/822681/ adbi-brief-emerging-era-digital-identities-challenges-and-opportunities-g20.pdf. Accessed 18 Jun 2023.
8. Khushk, K. & Iqbal, A. (2005). An Overview of Leading Biometrics Technologies Used for Human Identity. In Engineering Sciences and Technology, 2005. SCONEST 2005. Student Conference on. pp. 1-4.
9. Murdoch, St. J., & Abadi, A. (2022). A Forward-secure Efficient Two-factor Authentication Protocol. URL: https://discovery.ucl.ac.uk/id/eprint/10153744/7/Abadi_2022-1006.pdf. Accessed 05 Jun 2023.
10. Segovia Domingo, A. I. & Enríquez, Á. M. Digital Identity: the current state of affairs. No. 18/1. URL: https://www.bbvaresearch.com/wp-content/uploads/2018/02/Digital-Identity_ the-current-state-of-affairs.pdf. Accessed 02 Jun 2023.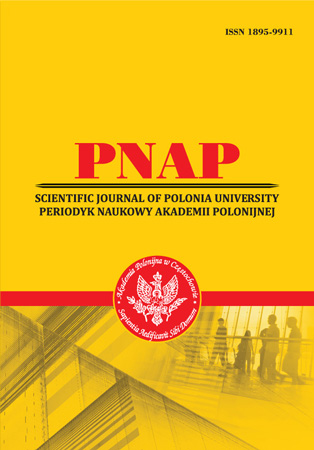 Abstract views: 116 PDF Downloads: 69
How to Cite
Utkina, M. (2023). DIGITAL IDENTIFICATION AND FINANCIAL MONITORING: NEW TECHNOLOGIES IN THE FIGHT AGAINST CRIME. Scientific Journal of Polonia University, 58(3), 303-308. https://doi.org/10.23856/5842
Section
INNOVATION, WORK, SOCIETY