THE CHARACTERISTICS OF ENGLISH TERMS STRUCTURE IN ARCHITECTURE AND CONSTRUCTION INDUSTRY
Keywords:
structural typology, professional terms, component, multicomponent term, nomination, abbreviation
Abstract
The article deals with structural typology in architecture and construction terminology. Modern linguists pay great attention to the study of terminological units in different branches of industry in modern world. The rapid growth of terms number in architect and construction requires its study, description and systematization. The current body of research provides clear evidence of much attention being paid to the architecture and construction industry itself, and its terminology in particular. The task of the research was to compare the structural features and identify the quantitative ratio of components in architecture and construction terms. Consequently, the object of research was the English terminology of architecture and construction industry, and the subject concerned the structural peculiarities of the English architecture terms. English samples of architecture and construction terms from internet resources have been analysed. Structural peculiarities of English architecture and construction terms have been studied and defined by the methods of comparative and structural analysis.
References
1. Aimenova, M., Ospanova, A., Rakhimova, A., Sarsembayeva, A. Mazhit. Z. (2019). Phraseological terminology in the English economic discourse. XLinguae. European Scientific Language Journal, 1, 228-238. Retrieved from: http://www.xlinguae.eu/. doi: 10.18355/XL.2019.12.01.18
2. Belyaeva, L.N., (2007). Theory and practice of translation. SPb.: LLC Book House. Bialyk, V. D., (2019). Word-formation Background of a Lexical Neo-Quantor Epistemology. Efficiency level and the necessity of influence of philological sciences on the development of language and literature : collective monograph, (pp. 1–18). Lviv-Toruń : Liha-Pres. doi: https://doi.org/10.36059/978-966-397-170-4/1-17
3. Encyclopedia Brittanica. Retrieved from: https://www.britannica.com/topic/architecture
4. Fedurko, М. Yu., (2019). Morphonological units in the system of Ukrainian word-formation from the noun. Traditions and innovations in teaching philological disciplines : collective monograph, (pp. 72–89). Lviv-Toruń : Liha-Pres. doi: https://doi.org/10.36059/978-966-397-131-5/72-88
5. Malenica, F., Fabijanić, I., (2013). Abbreviations in English Military Terminology. Brno Studies in English, Volume 39, 1, 59–63. ISSN 0524-6881 doi: 10.5817/BSE2013-1-4
6. Novikova, E., Mityagina, V., Charfaoui, E. (2017). Pragmatics of terminological nomination: tourism management. XLinguae. European Scientific Language Journal, 3, 285–299. Retrieved from: http://www.xlinguae.eu/. doi: 10.18355/XL.2017.10.03.23
7. Teleky, M. M. (2019). Eponymic terminological collocations in sublanguage of infectology. Scientific journal of the Lviv State University of Life Safety "Philological Periodical of Lviv", 5, 152–159. doi: https://doi.org/10.32447/2663-340X-2019-5-26
8. Yurko N. A., Styfanyshyn I. M., Romanchuk O. V. (2019). The characteristics of english terms structure in tourism industry. Scientific journal of the Lviv State University of Life Safety "Philological Periodical of Lviv", 5, 178–183. doi: https://doi.org/10.32447/2663-340X-2019-5-30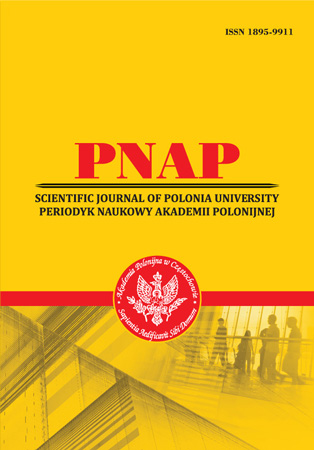 Abstract views: 18 PDF Downloads: 26
How to Cite
Ivanchenko, M. (2020). THE CHARACTERISTICS OF ENGLISH TERMS STRUCTURE IN ARCHITECTURE AND CONSTRUCTION INDUSTRY. Scientific Journal of Polonia University, 38(1-2), 41-45. https://doi.org/10.23856/3845
Section
Philological Sciences