SEMANTIC PROPERTIES OF THE NOMINAL PARTS OF SPEECH IN THE LYRICS OF THE 2000s BRITISH INDEPENDENT SCENE
Keywords:
lexical semantics, semantic analysis, song lyrics, the British independent scene, discourse-centered study, nominal parts of speech, applied linguistics
Abstract
This paper seeks to address the semantic classification of parts of speech with regard to the British independent scene of the 2000s. The vocabulary of any language is not simply a massive accumulation of words, but a system of interconnected elements. It is known as the lexico-semantic system of language. In the course of time, lexemes undergo semantic changes, i. e. reinterpretation and semantic modification. Given the multitude of linguistic factors and the rapid pace of development, the vernacular English language has experienced a lot of semantic changes over a period of a decade. To better reflect the semantic proprieties of the functional parts of speech (nouns, verbs, adjectives, and adverbs) that are peculiar to a definite time and a setting, we will examine the lyrics of the four most prominent British bands of the 2000s: Placebo, Franz Ferdinand, The Subways, and Stereophonics. Methods used in the study: the method of stylistic analysis for identifying and describing the proprieties of nouns, verbs, adjectives and adverbs in the subject-matter material, the method of quantitative calculations for generalizing the obtained results, induction, deduction and comparison.
References
1. Heyvaert, F. (2010). An outline for a semantic categorization of adjectives. Instituut voor Nederlandse Lexicologie, Leiden.
2. Raskin, V., Nirenburg, S. (1998). An Applied Ontological Semantic Microtheory of Adjective Meaning for Natural Language Processing. Machine Translation 13, 135–227. https://doi.org/10.1023/A:1008039100776
3. Kondakov N. (1975). Logicheskij slovar-spravochnik [Logical dictionary and reference book]. Nauka. [in Russian]. Retrieved from: https://www.azlyrics.com.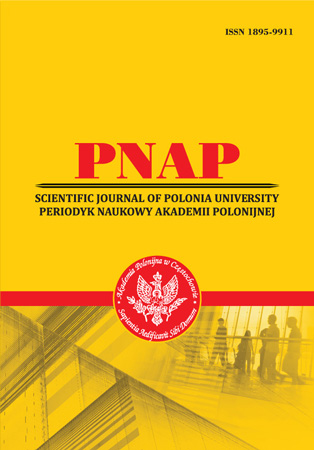 Abstract views: 10 PDF Downloads: 8
How to Cite
Sterlikova, M. (2020). SEMANTIC PROPERTIES OF THE NOMINAL PARTS OF SPEECH IN THE LYRICS OF THE 2000s BRITISH INDEPENDENT SCENE. Scientific Journal of Polonia University, 38(1-2), 95-101. https://doi.org/10.23856/3853
Section
Philological Sciences