SELF-EDUCATION AS A MEANS OF LEADERSHIP QUALITIES FORMATION IN FUTURE OFFICERS-COMMANDERS OF THE NATIONAL GUARD OF UKRAINE
Keywords:
motivation, self-education, self-upbringing, self-obligation, selforganization, self-training, self-control
Abstract
The problem of leadership, formation and development of leadership qualities has long been the focus of the scientific community. But it has become especially important in recent decades. And this is no accident. The global changes taking place in the world have significantly increased the demand for leaders –people who are able to unite, lead and successfully solve the tasks. This fully applies to officers-commanders of the National Guard of Ukraine. In modern conditions, there is a clear need for the formation of leadership qualities in future graduates of military educational institutions, on whose shoulders immediately after graduation lies a great responsibility for the management of units. At the same time, the analysis of responses of the military leadership of the state shows that a significant number of young officers do not have established leadership qualities. Many of them get lost in difficult situations. They lack the ability to quickly adapt to the new environment, responsibility, independence, initiative, physical endurance, flexibility in establishing relationships with subordinates, professional skills, competencies and organizational skills that underlie the authority of the commander. The result is a situation where there are a large number of managers, but there is a lack of leaders. This is especially detrimental in changing situations of service and combat activities, where the only chance for success is often a manifestation of the commander's leadership qualities. During training, it is still difficult for a future officer to understand which of his qualities will be decisive and which should be developed. Therefore, during training it is advisable to form a stable motivation for continuous self-development, which will allow you to constantly grow professionally and personally. The purpose of the article is to theoretically substantiate the process of self-education as a means of forming leadership qualities of a young officer.
References
1. Bankovskaya, N. (2010). Issledovanie motivacionnyh harakteristik samoobrazovaniya studentov [Research of motivational characteristics of self-education of students]. Izvestiya TulGU. Gumanitarnye nauki, 2, 282-294. [in Russian].
2. Bim-Bad, B. (2003). Pedagogicheskij enciklopedicheskij slovar [Pedagogical encyclopedic dictionary]. Moskva: Bolshaya Rossijskaya enciklopediya. [in Russian].
3. Gluhova, E. (2010). Mezhpredmetnye svyazi kak sredstvo samoobrazovaniya studentov v vuze [Interdisciplinary connections as a means of self-education of students at a university]. Chelyabinsk. [in Russian].
4. Lopuha, A., Strabykin, A. (2015). Camoobrazovanie kursantov voennogo vuza v sovremennyh usloviyah [Self-education of cadets of a military university in modern conditions]. Mir nauki, kultury, obrazovaniya, 6 (55), 209-212. [in Russian].
5. Manukyan, A. (2007). Samovospitanie voennosluzhashih kak faktor samosovershenstvovaniya lichnosti budushih oficerov [Self-education of servicemen as a factor in the self-improvement of the personality of future officers]. Izvestiya Rossijskogo gosudarstvennogo pedagogicheskogo universiteta im. A. I. Gercena, 18, 44, 390-395. [in Russian].
6. Mesheryakov, B. (2004). Bolshoj psihologicheskij slovar [Big psychological dictionary]. Sankt- Peterburg: Pajm-Evroznak. [in Russian].
7. Vishnevskaya, L. (2009). Samoobrazovanie kak psihologo-pedagogicheskaya problema [Self-education as a psychological and pedagogical problem]. Izvestiya PGPU im. V. G. Belinskogo, 12 (16), 156-158. [in Russian].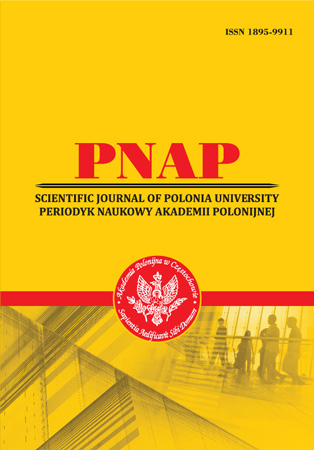 Abstract views: 7 PDF Downloads: 10
How to Cite
Lutsenko, B. (2021). SELF-EDUCATION AS A MEANS OF LEADERSHIP QUALITIES FORMATION IN FUTURE OFFICERS-COMMANDERS OF THE NATIONAL GUARD OF UKRAINE. Scientific Journal of Polonia University, 39(2), 180-185. https://doi.org/10.23856/3924
Section
LANGUAGE, CULTURE, COMMUNICATION