SECURITY POTENTIAL OF PERSONALITY: EMPIRICAL VERIFICATION OF EVERYDAY PRACTICES AND STRATEGIES OF BEHAVIOR (ON THE EXAMPLE OF THE SOUTH OF UKRAINE)
Keywords:
life safety, empirical sociological research, personality, construction of a safe life system, behavior strategies
Abstract
The author considers the potential of a person's safety as the basis for ensuring his life, associated with the presence of motivations, volitional qualities, dispositions to act in dangerous or extreme critical situations, not only at the level of the self-preservation instinct, but also on the basis of the inclusion of self-organizing reactions and the implementation of rational behavioral practices. The article analyzes the results of empirical research, which made it possible to verify the everyday practices and strategies for ensuring the safety of the respondents using V. Yadov's projective methodology and risk appraisal method of G. Schubert. The author found that when designing systems for safe life, almost half of the respondents choose a passive strategy of behavior. Most individuals are characterized by an active attitude of confronting or avoiding hazards. In terms of safety, almost 2/3 of the respondents have inherent potential; among the active behavioral strategies for ensuring the safety of life, they make a choice in favor of event, situational or parametric behavior. Young people, in spite of their propensity to take risks, in most cases choose problem-targeted strategies of behavior.
References
1. Zotova, O. Yu., Zinchenko, Yu. P. (2010). Osnovy bezopasnosti lichnosti i obshestva [Fundamentals of personal and social security]. Moskva: Izd-vo Akademii povysheniya kvalifikacii i perepodgotovki rabotnikov obrazovaniya [in Russian].
2. Kamenskaya, E. (2017). Psihologicheskaya bezopasnost lichnosti i povedenie cheloveka v chrezvychajnoj situacii : uchebnoe posobie [Psychological safety of the individual and human behavior in an emergency: a tutorial]. Rostov-na-Donu : Izd-vo YuFU [in Russian].
3. Krasnyanskaya, T. M. (2005). Lichnaya bezopasnost cheloveka v problemnom pole psihologii bezopasnosti [Personal safety of a person in the problem field of safety psychology]. Vestnik Stavropolskogo gosudarstvennogo universiteta. № 40, 145–153 [in Russian].
4. Meizhys, I. A., Kalashnikova, L. V. (2016). Informatsiino-analitychna dovidka: Sotsialni vymiry protsesu reformuvannia systemy osvity (na prykladi Pivdnia Ukrainy) [Information-analytical reference: Social dimensions of the process of reforming the education system (on the example of the South of Ukraine)]. Mykolaiv: Vydavnytstvo ChDU im. P. Mohyly [in Ukraine].
5. Petrovskij, V. A. (1997). Neadaptivnyj risk: fenomenologiya i opyt interpretacii [Non-adaptive risk: phenomenology and experience of interpretation]. Upravlenie riskom. № 3, 29–34.
6. Yadov, V. A. (1997). Struktura i pobuditelnye impulsy socialno-trevozhnogo soznaniya [Structure and incentive impulses of socially anxious consciousness]. Sociologicheskij zhurnal. № 3, 77–91.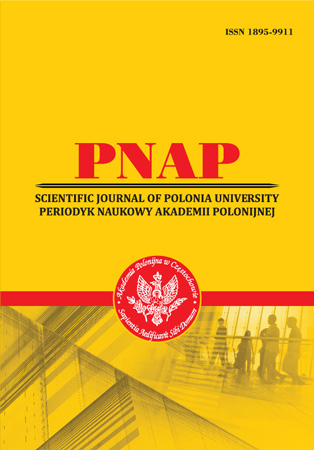 Abstract views: 8 PDF Downloads: 8
How to Cite
Kalashnikova, L. (2021). SECURITY POTENTIAL OF PERSONALITY: EMPIRICAL VERIFICATION OF EVERYDAY PRACTICES AND STRATEGIES OF BEHAVIOR (ON THE EXAMPLE OF THE SOUTH OF UKRAINE). Scientific Journal of Polonia University, 39(2), 251-259. https://doi.org/10.23856/3933
Section
INNOVATION, WORK, SOCIETY