MEANS AND METHODS OF EXPRESSING THE SENSES IN ENGLISH PREFIXAL VERBS
Keywords:
prefix, word-building, meaning, senses, verbal prefix, componential analysis, semantic opposition, invariant
Abstract
The paper dwells upon the systematic description of English verbal prefixes. The verbal prefix is to be treated in the paradigmatic and syntagmatic plane of the language. It is asserted in this article that the meaning of a prefix is identical to that of the preposition – the relationship between two objects in space extrapolating on two consecutive states of the subject/object in time, and when generalized, form the two types of senses. Such prefix features as origin, transporting opportunity, negation and valency are considered, as well as semantic features (such as polysemy and chains of synonyms). In semantic analysis we deal with semes as the meaning constituents defining basic and secondary semes. The process of the formation of different senses has been distinguished by means of semantic opposition and combinations of semes that form the invariant meaning of the verbal prefix.
References
1. Barhudarov L. S. (2009) Ocherki po morfologii sovremennogo anglijskogo jazyka [Studies on morphology of modern English]. Moskva. [in Russian]
2. Karashhuk P. M. (1977) Slovoobrazovanie anglijskogo jazyka [Word formation of English].
3. Moskva: Vysshaja shkola. [in Russian]
4. Meshkov O. D. (1975) Slovoobrazovanie sovremennogo anglijskogo jazyka [Word formation of modern English]. Moskva: Nauka. [in Russian]
5. Meyer Ch. F. (2009) Introducing English linguistics. Cambridge: Cambridge University Press.
6. Marchand Hans (1960) The Categories and Types of Present-Day English Word-Formation. Wiesbaden: Otto Harrassowitz.
7. Shkarupin V. I. (1963) On the specifics of prefixing in modern English. Problems of the Germanic languages morphological structure. pp. 146-154. Moscow: Publishing House of the USSR Sciences Academy.
8. Thomas Tsoi (2008) Etymology, Morphology, Phonology, Semantics. So many negative prefixes. Retrieved from: http://www.linglish.net/2008/09/15/so-many-negative-prefixes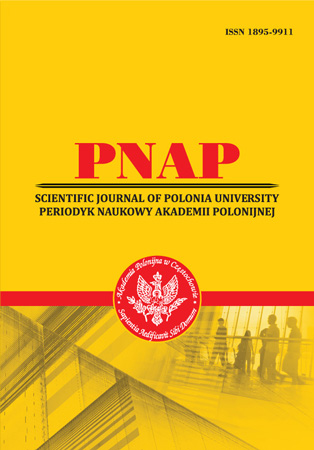 Abstract views: 29 PDF Downloads: 30
How to Cite
Dudok, A. (2021). MEANS AND METHODS OF EXPRESSING THE SENSES IN ENGLISH PREFIXAL VERBS. Scientific Journal of Polonia University, 42(5), 19-25. https://doi.org/10.23856/4202
Section
LANGUAGE, CULTURE, COMMUNICATION