KEEPING PHYSICIAN'S PROFESSIONAL COMPETENCE CURRENT AND RELEVANT TO MODERN PRACTICE: THE NEED FOR LIFELONG LEARNING
Keywords:
continuous education, medical education, health professionals, physician's competence, professionalism
Abstract
The article describes main features of continuing professional medical education in contemperory world influenced by the pandemic COVID-19. The aim of the research is to study the basics of management of the effectiveness of doctors and paramedics training based on lifelong learning. A new model of a healthcare professional competence is reviwed in the article. The analytical method was used as a research method while analyzing scientific and pedagogical literature. The prospective development of modern medicine is impossible without continuous medical education, which dynamically encompasses not only the majority of scientific disciplines, but also a multifaceted spectrum of innovative technologies. The proposed key directions of management of the effectiveness of doctor's training in the COVID-19 situation are based on the main principles of the implementation of the concept of medical lifelong learning. At the present stage of healthcare system in Ukraine a lot of qualified professionals in many specific specialties are needed. The country also needs creative individuals who are able to acquire the necessary professional competences through lifelong education.
References
1. Babenko O., Koppula S., Daniels L., Nadon L., & Daniels V. (2017) Lifelong learning along the education and career continuum: meta-analysis of studies in health professions. Journal of Advances in Medical Education & Professionalism, no. 5(4), pp. 157-163. Retrieved from: https://europepmc.org/article/pmc/pmc5611424
2. Ding M., Babenko O., Koppula S., Oswald A., & White J. (2019) Physicians as Teachers and Lifelong Learners. Journal of Continuing Education in the Health Professions, no. 39(1), pp. 2-6. Retrieved from: https://journals.lww.com/jcehp/Abstract/2019/03910/Physicians_as_Teachers_and_Lifelong_Learners.2.aspx doi: 10.1097/CEH.0000000000000228
3. Horsley T., Grimshaw J., & Campbell C. (2010) How to create conditions for adapting physicians' skills to new needs and lifelong learning. WHO Regional Office for Europe and European Observatory on Health Systems and Policies. Retrieved from: https://www.euro.who.int/__data/assets/pdf_file/0020/124418/e94294.pdf
4. Li L., Xv Q., & Yan J. (2020) COVID-19: the need for continuous medical education and training. The Lancet. Respiratory Medicine, no. 8(4). Retrieved from: https://www.thelancet.com/journals/lanres/article/PIIS2213-2600(20)30125-9/fulltext doi: 10.1016/S2213-2600(20)30125-9
5. Siddiqui, Z. S. (2003) Lifelong learning in medical education: From CME to CPD. Journal of the College of Physicians and Surgeons-Pakistan, no. 13(1), pp. 44-47. Retrieved from: https://www.researchgate.net/publication/10813206_Lifelong_ learning_in_medical_education_From_CME_to_CPD
6. Stephenson, Ch. R., Qian, Q., Mueller, P. S., Schlek, D. C., Mandrekar, J. N., Beckman, T. J & Wittich, Ch. M. (2020) Chinese physician perceptions regarding industry support of continuing medical education programs: a cross-sectional survey. Medical Education Online, 25. Retrieved from: https://www.tandfonline.com/doi/full/10.1080/10872981.2019.1694308 doi: 10.1080/10872981.2019.1694308
7. Tweedie, J., Hordern, J., & Dacre, J. (2018) Advancing medical professionalism. London: Royal College of Physicians. Retrieved from: https://www.rcplondon.ac.uk/projects/outputs/advancing-medical-professionalism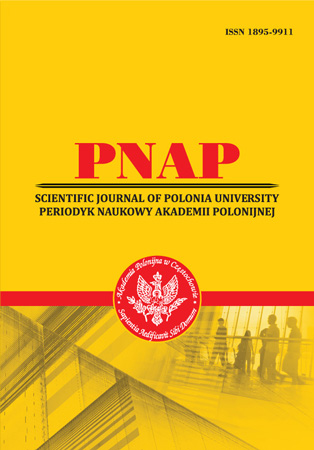 Abstract views: 38 PDF Downloads: 21
How to Cite
Dudina, O. (2021). KEEPING PHYSICIAN'S PROFESSIONAL COMPETENCE CURRENT AND RELEVANT TO MODERN PRACTICE: THE NEED FOR LIFELONG LEARNING. Scientific Journal of Polonia University, 42(5), 66-70. https://doi.org/10.23856/4209
Section
LANGUAGE, CULTURE, COMMUNICATION