ARTICULATION OF THE PROBLEM OF CONTINUOUS PRIMARY SCHOOL TEACHER TRAINING TO WORK IN CONDITIONS OF INCLUSIVE EDUCATION IN THE MODERN PEDAGOGICAL DISKURS
Keywords:
humanization, educational environment, professional competences, education during the whole life, International context of the understanding continuous professional training and inclusion, domestic context
Abstract
In this article it was investigated the diskurson the one hand for understanding the modern state of problem`s articulation of continuous primary school teacher training made on the basis of a review of normative documents and literature and inclusive education on the other hand. It was analyzed the evolution of views on (1) education of children with special educational needs and (2) approaches to understanding the teacher training to work in inclusive classes with projection on continuous professional development and conception of continuous education. The analysis of normative international and domestic documents, literature of continuous training of teachers and professional activity in terms of inclusive education, practical implementation in Ukraine, new demands to professional competence of modern teacher allowed us to show a sequence of contradictions. In conclusion, the sphere of inclusive education is developing rapidly in Ukraine in the last 10 years which resulted in development of the law and development in science researches in the field of inclusion. Only teacher who is integrated to the system of continuous training and is interested in self-development can integrate principles of inclusive education.
References
1. Bilous O., Konstantyniuk S. (2018). Osvitaditei zosoblyvymypotrebamy: vid radianskoidiisnosti do suchasnykhtendentsii [Education of children with special needs: from the Soviet reality to modern trends]. URL: http://ua.inklusion-inklusija.com/inclusion_in_school_and_society [in Ukrainian].
2. Havrylov O. V. (2009). Osoblyvidity v zakladi i sotsialnomuseredovyshchi: navchalnyiposibnyk [Special children in the institution and the social environment: a textbook]. Kamianets-Podilskyi: Aksioma [in Ukrainian].
3. ZakonUkrainy «Pro osvitu» (2017). [Law of Ukraine "On Education"]. 05.09.2017 № 2145-VIII. URL: https://zakon.rada.gov.ua [in Ukrainian].
4. Kolupaieva A.A., Taranchenko O.M. (2016). Inkliuzyvnaosvita: vid osnov do praktyky [Inclusive education: from basics to practice]. Kyiv: TOV «ATOPOL» [in Ukrainian].
5. Nova ukrainskashkola: kontseptualnizasadyreformuvanniaserednoishkoly (2016) [The new Ukrainian school: conceptual principles of secondary school reform]. https://mon.gov.ua/storage/app/media/nova-ukrainska-shkola-compressed.pdf (data zvernennia: 16.03.2018) [in Ukrainian].
6. Plan dii dlia Ukrainyna 2018-2021 rr. Komitetministriv RadyYevropy (2018) [Action Plan for Ukraine for 2018-2021. Committee of Ministers of the Council of Europe]. URL: https://rm.coe.int/ap-ukraine-2018-2021-ukr-local-lang-official-non-web/16809e4563 [in Ukrainian].
7. European Agency for Special Needs and Inclusive Education (2015).Empowering Teachers to Promote Inclusive Education.Literature Review. Odense, Denmark: European Agency for Special Needs and Inclusive Education. https://www.european-agency.org/sites/default/files/Empowering%20.pdf
8. Gaymer, D. M. (2006). Continuing Education and Lifelong Learning Trends. In M.M., Helms (Ed.) Encyclopedia of management (5th ed.), (pp.128-131).Farmington Hills, Michigan, USA: Thomson Gale Publishing.
9. Gaymer, D. M. (n. d.) Continuing education and lifelong learning trends. http://www.referenceforbusiness.com/management/Comp-De/Continuing-Education-andLifelong-Learning-Trends.html
10. UN. (n.d.). Sustainable Development Goals.The 17 Goals. https://sdgs.un.org/goals
11. UN. (2015). Resolution adopted by the General Assembly on 25 September 2015. Transforming our world: the 2030 agenda for sustainable development. http://www.un.org/ga/search/view_doc.asp
12. UNECE (2019). Regional Forum on Sustainable Development for the UNECE Region (21-22 March 2019). https://unece.org/fileadmin/DAM/RCM_Website/SDG4_1.pdf
13. UNESCO (2020). Inclusion and education: All Means All. Global Education Monitoring Report. https://unesdoc.unesco.org/ark:/48223/pf0000373718/PDF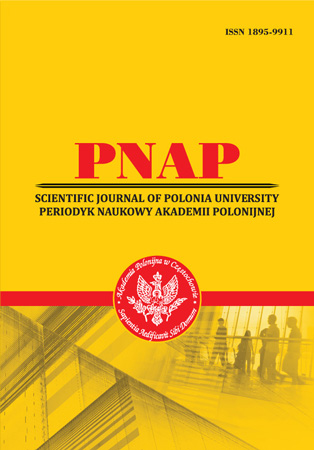 Abstract views: 406 PDF Downloads: 39
How to Cite
Dzhaman, T. (2021). ARTICULATION OF THE PROBLEM OF CONTINUOUS PRIMARY SCHOOL TEACHER TRAINING TO WORK IN CONDITIONS OF INCLUSIVE EDUCATION IN THE MODERN PEDAGOGICAL DISKURS. Scientific Journal of Polonia University, 46(3), 20-27. https://doi.org/10.23856/4603
Section
LANGUAGE, CULTURE, COMMUNICATION