GENREMERKMALE DER DEUTSCHEN POLITISCHEN ANEKDOTE
Keywords:
politische Anekdote, spezifische Merkmale, Pointe, komischer Effekt, Witz, Humor.
Abstract
Politische Anekdoten sind kurze Geschichten satirischer und humorvoller Natur über eine typische Lebenssituation, ein Ereignis oder ein Phänomen. Das Thema der Anekdoten umfasst stets aktuelle Themen des alltäglichen und gesellschaftspolitischen Lebens. Wenn man berücksichtigt, welche Witze beliebt sind, kann man die Stimmung in der Gesellschaft in Bezug auf das politische und wirtschaftliche Leben des Landes analysieren. Ein bestimmter Text funktioniert so lange, wie die Fakten und Phänomene, die er widerspiegelt, relevant sind (jetzt sind die DDR-Witze usw. aus dem aktiven Gebrauch). Mit dem Verlust der Relevanz gehen Anekdoten in einen "passiven" Bestand über, aber sie können wieder "lebendig" werden, sich reaktualisieren, wenn eine ähnliche Situation oder ein ähnliches Ereignis eintritt (die Existenz des Ausdrucks "bärtige Anekdote" weist nicht nur auf die Notwendigkeit der Relevanz des Genres hin, sondern auch darauf, dass der Text sehr "lebendig" ist und für eine lange Zeit existiert). Daher ist es wichtig, thematische Gruppen und Zyklen nicht nur synchron oder unter dem Gesichtspunkt der Identifizierung einiger ihrer gemeinsamen zeitlosen Merkmale zu untersuchen, sondern auch im diachronen Abschnitt, in der Entwicklung: Veränderungen innerhalb des Zyklus oder der thematischen Gruppe in verschiedenen Epochen, die Ersetzung einiger Themen durch andere, Besonderheiten der Reaktualisierung bestimmter Texte usw. sind von Interesse. Das Ziel dieser Arbeit ist es den aktuellen Stand der Erforschung von Genre-Merkmalen der politischen Anekdote zu analysieren und Aspekte zu identifizieren, die weiter Entwicklung bedürfen.
References
1. Jung К.G. (1999) Issledovaniye mifov severoamerikanskikh indeytsev s kommentariyami [An Examination of the Mythos of the North American Indians]. St. Petersburg : Yevrayiza.
2. Kovaliv Ju.I. (2007) Literaturoznavcha encyklopedija: U dvokh tomakh. [Encyclopedia of literary studies: in two volumes]. Vol. 2. Retrieved from: http://archive.org/download/ literaturoznavcha T 2.pdf (accessed 10 Juni 2022).
3. Shmeleva E.Ya., Shmelev A.D. (2002) Russkiy anekdot. Tekst i rechevoy zhanr [Russian joke. Text and speech genre]. Moscow : Yazyki slavyanskoy kul'tury.
4. Bazil V. (2012) Witz und Humor in der Kommunikation. Kommunikationsmanagement, no. 5. Retrieved from: http://www.piwinger.de/aktuell/KM_5.61_Bazil_Piwinger_Witz.pdf (accessed Februar 2011).
5. Chistov K.V. (2005) Poetika slavyanskogo fol'klornogo teksta. Kommunikativnyy aspect [Poetics of the Slavonic folklore text. Communicative aspect]. Moscow : OGI.
6. Kurganov Ye. (1997) Anekdot kak zhanr [Joke as a genre]. SPb. : Akademicheskiy proyekt.
7. Kimakovich I.I. (2005) Novitniy ukrains'kiy anekdot yak liklik KHKHI stolitnyu: do pitannyapro sutnist' suchasnikh sposobov obminu informatsieyu. Narodna tvorchist'ta etnografiya, no. 6, pp. 88–93.
8. Raskin V. (1979) Semantic Mechanisms of Humor. Proceedings of the FifthAnnual Meeting of the Berkeley Linguistics Society. pp. 325–335.
9. Chirkova O.A. (1998) Poetika komicheskogo v izbrannom narodnom anekdote [Poetics of the comic in a selected folk anecdote]. Filologicheskiye nauki, no. 5–6, pp. 30–37.
10. Ivanov V.M. (1999) Yavleniye ekvivokatsii v diskurse anekdota v v elitarnom nemetskom yazyke: avtoref. dis. na soiskaniye uchen.stepen'kand.psikhol.nauk: spets.10.02.04 "Nemetskiye yazyki". Irkutsk, 19 s.
11. V.M.Frishe, A.V.Lunacharskiy M. Literaturnaya entsiklopediya: V 11 t. / Pod. red.: red. kommunisticheskaya akademiya, 1929–1939 gg.
12. Novikov L.A. (2003) Semiotika kak nauka o znakovych sistemakh I obschaya linguistika. Vestnik RUDN. Seriya Linguistika, no. 5, pp. 21–36.
13. Retrieved from: http://feb-web.ru/feb/litenc/encyclop/le4/le4-5471.htm (accessed April 2022).
14. V.Z. Demyankov, N. Azarova (2013). Yazykovye parametry sovremennoy tsivilizatsii [Linguistic parameters of modern civilization]. Moscow : Institut zazykoynaniya RAN, IP Shilin I.V. ("Eydos").
15. Borodulina M.K., Tzupazeva G.S. (1987) Nemetskaya razgovornaya leksika, Moscow : Vysshaya shkola.
16. Mit diesen 3 Stilfiguren von 10 auf 1000 Leser – Teil 1: der Vergleich. Retrieved from: https://schreibenundleben.com/mit-3-stilfiguren-von-10-auf-1000-leser-der-vergleich/ (accessed Oktober 2022).
17. Rozental D.E. (1985) Speravochnik linguisticheskikh terminov: Posobiye dlya uchitelya. 3-izd., ispr. i dop. Moscow: Prosvescheniye.
18. J.W.v.Goethe: Nachlese: Ode an Herrn Professor Zachariä. Retrieved from: https://www.xn--gedichteundzitatefralle-tpc.de/2020/07/jwvgoethe-nachlese-ode-herrnprofessor. html (accessed 20 September 2022).
19. Kuzmin S.S. (1976) Smekh kak perevodcheskaya problema (na primere frazeologizmov) [Laughter as a translation problem (on the example of phraseological units]. Tetrad perevodchika. Moscow, no, 13, pp. 47–58.
20. Vlakhov S.I., Florin S.P. (1980). Neperevodimoye v perevode. Moscow : Mezhdunarodnye otnosheniya.
21. Gal N. (2001) Slovo zhivoye i myortvoye. Moscow: Mezhdunarodnye otnosheniya.
22. Mirnye peregovory Genriha Gimmlera s zapadnymi soyuznikami v 1945 godu. Retrieved from: https://germania.one/mirnye-peregovory-genriha-gimmlera-s-zapadnymi-sojuznikamiv- 1945-godu (accessed 20 October 2022).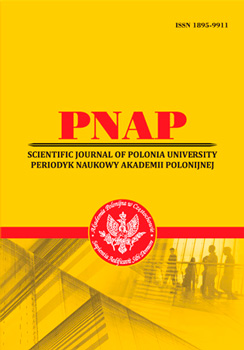 Abstract views: 22 PDF Downloads: 15
How to Cite
Hammoor, M. (2022). GENREMERKMALE DER DEUTSCHEN POLITISCHEN ANEKDOTE. Scientific Journal of Polonia University, 54(5), 24-33. https://doi.org/10.23856/5403
Section
LANGUAGE, CULTURE, COMMUNICATION