SCHULD – SUCHE – VERZEIHUNG: SICH GEGENSEITIG AUSSCHLIESSENDE KONSTANTEN ODER SINNEINHEIT? (JONATHAN SAFRAN FOER "UNHEIMLICH LAUT UND UNGLAUBLICH NAH")
Keywords:
Metamoderne, literarisches Werk, die Dominante, die Sinnstiftung, die Rezeption
Abstract
Der moderne literarische Prozess bietet zahlreiche Möglichkeiten für die Rezeption und Interpretation existenzieller Marker. Die Suche nach gedanklichen und semantischen Dominanten, die das existentielle Paradigma umreißen, führt den Forscher in kategorisches Labyrinth, in dem jedes neue Phänomen neue Fragen über das bereits scheinbar Verstandene aufwirft. Der metamoderne Diskurs zeigt die Notwendigkeit, den Begriff der Schuld als modellierenden Faktor auf der Ebene eines Kunstwerks zu definieren. Der Artikel bietet eine poetische Projektion des Begriffs "Schuld" im Prisma seines philosophischen Verständnisses in literarischen Werken. Dabei werden insbesondere die konzeptionellen Unterschiede in der Auslegung dieses Begriffs in den verschiedenen Epochen der Literaturgeschichte herausgearbeitet. Die Analyse des Prozesses der künstlerischen Modellierung und der weiteren Rezeption durch das Prisma der Schuld wird am Material des Romans des modernen amerikanischen Schriftstellers Jonathan Safran Foer "Unheimlich laut und unglaublich nah" durchgeführt. Um das semantische Paradigma der Schuld zu umreißen, wird vorgeschlagen, die verwandte Kategorie der "Verzeihung" kontextuell zu betrachten.
References
1. Akker, R. van den, Vermeulen, T., Gibbons, A. (2017). Metamodernism: historicity, affect and depth after postmodernism. Lanham: Rowman & Littlefield Publishers.
2. Barri, P. (2008). Vstup do teorii: literaturoznavstvo ta kulturolohiia [Beginning theory: An introduction to literary and cultural theory]. Kyiv: Smoloskyp. [in Ukrainian]
3. Blum, A. (2008). Shame and Guilt, Misconceptions and Controversies: A Critical Review of the Literature. Washington DC. DOI: https://doi.org/10.1177/1534765608321070
4. Eco, U. (2004). Rol chytacha: Doslidzhennia z semiotyky tekstiv [The Role of the Reader: Explorations in the Semiotics of Texts]. Lviv: Litopys. [in Ukrainian]
5. Foer, J. S. (2005). Extremely Loud & Incredibly Close. Boston, New York: Houghton Mifflin Company.
6. Foer, J. S. (2015). Strashenno holosno i neimovirno blyzko [Extremely loud and incredibly Close]. Kharkiv: Klub simeinoho dozvillia. [in Ukrainian]
7. Rebega, O. L., Apostol, L., Benga, O., Miclea, M. (2013). Inducing Guilt: A Literature Review. Amsterdam: Elsevier. DOI: https://doi.org/10.1016/j.sbspro.2013.04.346.
8. Sartre, J.-P. (1948). Qu'est-ce que la littérature? Paris: Editions Gallimard.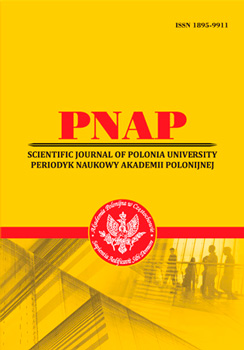 Abstract views: 16 PDF Downloads: 11
How to Cite
Kokhan, R. (2023). SCHULD – SUCHE – VERZEIHUNG: SICH GEGENSEITIG AUSSCHLIESSENDE KONSTANTEN ODER SINNEINHEIT? (JONATHAN SAFRAN FOER "UNHEIMLICH LAUT UND UNGLAUBLICH NAH"). Scientific Journal of Polonia University, 55(6), 32-39. https://doi.org/10.23856/5504
Section
LANGUAGE, CULTURE, COMMUNICATION