ANEMIA IN PATIENTS WITH ACTIVE ULCERATIVE COLITIS
Antoni Stadnicki

Polonia Academy in Częstochowa

Anna Stadnicka

University of Economics and Innovation in Lublin

http://orcid.org/0000-0001-5107-8551

Józef Kurek

Multidisciplinary Hospital
Keywords:
anemia, iron deficiency anemia, IDA, ulcerative colitis, ferritin, CRP
Abstract
Iron deficiency anemia (IDA) is the most common complication in patients with IBD. In spite this, some investigators indicate that more than a third of IBD patients are not tested for anemia in the time of diagnosis. Aim. To provide a pathway to help achieve diagnosis a type of anemia in patients with moderate activity of ulcerative colitis (UC). Methods. Basic profile of iron turnover parameters, red blood cell indices, and C-reactive protein (CRP) in 20 anemic patients with mild/moderate active UC patients was described. Results. IDA was diagnosed in fifteen 75% of the patients, tree of which (15%) had anemia of chronic disease (ACD), and 10% had mixed type of anemia (IDA/ACD). Conclusion. Ferritin, seems to play a central role in the definition and diagnosis of anemia in UC patients. Routine screening for anemia is important among patients with IBD. The cornerstone for the accurate management of anemia in UC patients lies in accurately diagnosing the type of anemia.
References
1. Bernstein Ch.N., Benchimol E.I., Bitton A., Murthy S.K., MD, Nguyen G.C. et al. (2019). The Impact of Inflammatory Bowel Disease in Canada 2018: Extra-intestinal Diseases in IBD. J Can Assoc Gastroenterol (Suppl 1), S73–S80.
2. Stadnicki A., Colman R.W. (1998). Extraintestinal manifestations of inflammatory bowel disease: new insights into pathogenesis and clinical setting. Gastroenterol Pol 5, 517–523.
3. Lucendo A.J., Arias Á., Roncero Ó., Hervias D., Verdejo C. et al. (2017). Anemia at the time of diagnosis of inflammatory bowel disease: Prevalence and associated factors in adolescent and adult patients. Dig Liver Dis 49 (4), 405–411.
4. Oustamanolakis P., Koutroubakis I.E., Messaritakis I., Kefalogiannis G., Niniraki M., Kouroumalis E.A. (2011). Measurement of reticulocyte and red blood cell indices in the evaluation of anemia in inflammatory bowel disease. J Crohns Colitis 5 (4), 295–300.
5. Testa A., Rispo A., Romano M., Riegler G., Selvaggi F. et al. (2016). The burden of anaemia in patients with inflammatory bowel diseases. Dig Liver Dis 48 (3), 267–270.
6. Battat R, Kopylov U, Szilagyi A, Saxena A., Rosenblatt D.S. et al. (2014). Vitamin B12 deficiency in inflammatory bowel disease: prevalence, risk factors, evaluation, and management. Inflamm Bowel Dis 20 (6), 1120-8.
7. Clarke K., Sagunarthy R., Kansal S. (2008). RDW as an additional marker in inflammatory bowel disease/undifferentiated colitis. Dig Dis Sci 53, 2521–2523.
8. Gomollon F., Gisbert J.P. (2009). Anemia and inflammatory bowel diseases. World J Gastroenterol 15, 4659-65.
9. Bertero M.T., Caligaris-Cappio F. (1997). Anemia of chronic disorders in systemic autoimmune diseases. Haematologica 82, 375-81.
10. Weiss G., Goodnough L.T. (2005). Anemia of chronic disease. N Engl J Med 352, 1011–1023.
11. Mecklenburg I., Reznik D., Fasler-Kan E., Drewe J., Beglinger C., Hruz P. (2014). Swiss IBD Cohort Study Group. Serum hepcidin concentrations correlate with ferritin in patients with inflammatory bowel diseases. J Chrn's Colitis 8 (11), 1392.
12. Vermeire S., Van Assche G., Rutgeerts P. (2006). Laboratory markers in IBD: useful, magic, or unnecessary toys? Gut., 55, 426-31.
13. Anker S.D., Comin Colet J., Filippatos G., et al. (2009). Ferric carboxymaltose in patients with heart failure and iron deficiency. N Engl J Med 361, 2436–2448.
14. Shepshelovich D., Zvi B.R., Avni T., Gafter U., Gvili G.A. (2016). Intravenous versus oral iron supplementation for the treatment of anemia in CKD: an updated systematic review and metaanalysis. Am J Kidney Dis 68, 677–690.
15. Truelove S.C., Witts L.J. (1955). Cortisone in ulcerative colitis; final report on a therapeutic trial. Br Med J 2, 1041–1048.
16. WHO, UNICEF, UNU. Iron deficiency anaemia: Assessment, prevention and control. Report of a joint WHO/UNICEF/UNU consultation. Geneva: World Health Organization 1998.
17. Alves R.A., Miszputen S.J., Figueiredo M.S. (2014). Anemia in Inflammatory Bowel Disease: Prevalence, Differential Diagnosis and Association With Clinical and Laboratory Variables Sao Paulo Med J 132 (3), 140-6.
18. Patel D., Trivedi C., Khan N. (2018). Management of Anemia in Patients with Inflammatory Bowel Disease (IBD). Curr Treat Option Gastroenterol 16 (1), 112–128.
19. Stein J., Dignass A.U. (2013). Management of iron deficiency anemia in inflammatory bowel disease – a pratical approach. Ann Gastroenterol 26 (2), 104–113.
20. Umehara Y., Kudo M., Nakaoka R., Kawasaki T., Shiomi M. (2006). Serum proinflammatory cytokines and adhesion molecules in ulcerative colitis. Hepatogastroenterology 53, 879–882.
21. Wians F.H., Urban J.E., Keffer J.H., Kroft S.H. (2001). Discriminating between iron deficiency anemia and anemia of chronic disease using traditional indices of iron status vs transferrin receptor concentration. Am J Clin Pathol. 115 (1), 112–118.
22. Molnar T., Farkas K., Szepes Z., Nagy F., Nyari T., Wittmann T. (2008). RDW can be a useful additional marker in diagnosing Crohn's disease and ulcerative colitis. Dig Dis Sci 53, 2521-3.
23. Lindgren S., Wikman O., Befrits R. et al (2009). Intravenous iron sucrose is superior to oral iron sulphate for correcting anaemia and restoring iron stores in IBD patients: A randomized, controlled, evaluator-blind, multicentre study. Scand J Gastroenterol 44, 838–845.
24. Lachance K., Savoie M., Bernard M. et al. (2011). Oral ferrous sulfate does not increase preoperative hemoglobin in patients scheduled for hip or knee arthroplasty. Ann Pharmacother 45, 764–770.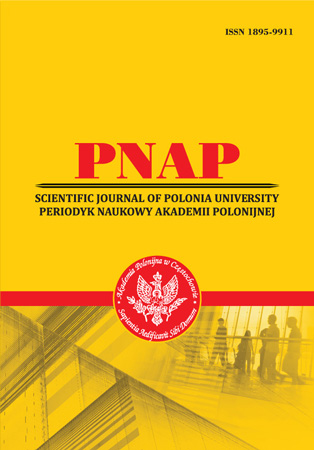 Abstract views: 22 PDF Downloads: 12
How to Cite
Stadnicki, A., Stadnicka, A., & Kurek, J. (2020). ANEMIA IN PATIENTS WITH ACTIVE ULCERATIVE COLITIS. Scientific Journal of Polonia University, 38(1-2), 278-284. https://doi.org/10.23856/3877